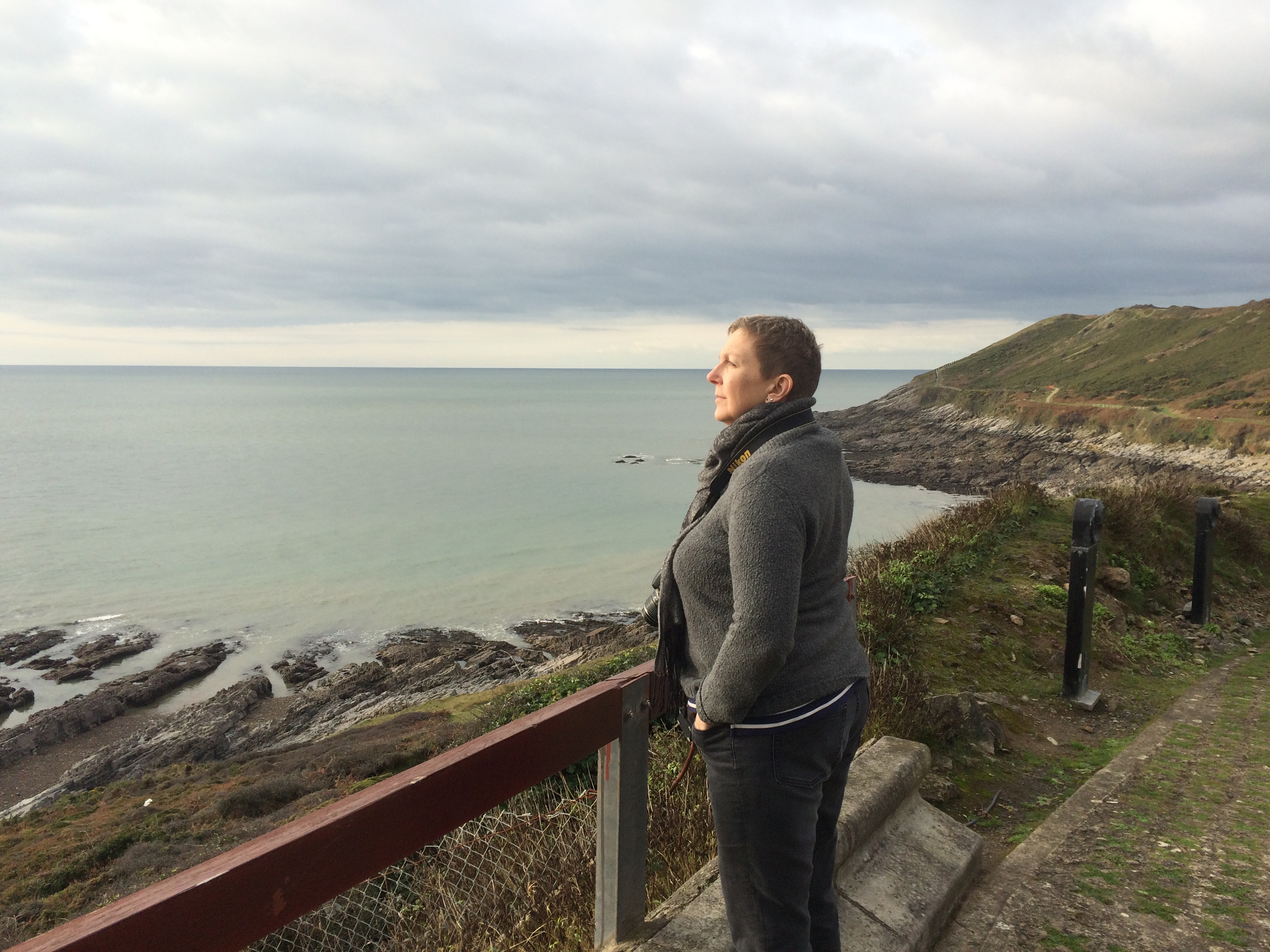 Tami on the ocean in Wales


The Full Welsh Breakfast at the Norton House in Swansea, Wales is not something to be trifled with. In addition to a perfunctory poached egg, it sports the likes of baked beans, fried tomatoes, a large black mushroom and blood sausage. It was accompanied by a surprisingly good cup of scro. Consumed in whispered quietude amongst the other guests in a British seaside dining room.

Tami figures we ought to see a castle so we go out to Oystermouth Castle, built in the 12th century and only open from April to September. We saw another of the guests from the hotel. Again, the whispered quietude. On the way we stopped at a scenic overlook overlooking the sea and we spotted a guy coming out of the water wearing orange trunks. You may think you're badass but are you swim-in-November-in-Wales badass?


Swimming in November/Oystermouth Castle
We found a Starbucks but it was closed for construction. However, Tami found the Welsh workmen quite fetching so I suppose it wasn't a complete loss.
Lunch in Droitwich was disgusting pork sandwiches which were supposed to be pork rolls but they had run out of rolls. Which wasn't the problem. But Tami likes them, so, again, not a complete loss. Just like Neil and Desmond, she'll eat all the weird gamey stuff like organ meat and whatnot that I think tastes like stuff that shouldn't be eaten.
I find that the British are about as fed up with my driving as I am with their backwards roads. Twice now, while trying to park I've had drivers give me attitude. I'm from Boston, mother#~&@$!s! We have been known to straight up kill people for that kind of behavior.
Dinner with Pam was lovely, as one would expect. She is such an amazing person (really, the spell check goes to "Amazon" over "amazing" on that? Product placement, anyone?). She is ninety-three and is sharp as a tack and raring to go. I asked her nurse, JoJo how she was and she said she was doing well but "sometimes her memory, you know?" Yeah, you're not yet forty, are you, JoJo?
Pam chastised Desmond to me for asking if she wanted a wheelchair while they visit the Tate Gallery on Wednesday. But she said the other nuns in her community were appalled she turned it down.
We talked about how she felt about Pope Francis and she loves him of course, being a fellow Argentine and all. She wrote him a letter just when he became pope on the sixtieth anniversary of her service in the Order of the Holy Child and his secretary wrote back saying His Holiness was pleased to hear from her and sends prayers for her and her family (woo-hoo!) as she continues on her path to Sanctity, to which one of the other nuns retorted, "Continues? She hasn't even started!"
We are staying at the Geminian Guest House in Harrogate, a nice place right downtown. We went to the English Walmart tonight to buy cough medicine and cognac to help me sleep. They actually had Woodford, but the Courvoisier reminded me of when I came over here with Bob Requa when I was fifteen and in his room in Southernwood, there was a closet that had its own closet and in that closet there was a case of liqueurs, Courvoisier among them. Needless to say, every night we drank ourselves silly out of little egg cups we would sneak up from the kitchen below.